"Nothing short of excellence" is Dr Kevin Chang's approach to everything in life.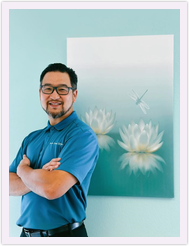 Kevin Chang, DDS
Dr. Chang attended the University of California, Berkeley, where he received two degrees; a B.A. in Biology, and a minor in Business Administration. While there, he was president of the Pre-Dental Society, captain of his intramural flag-football team, and co-published a paper on arthropod biomechanics (research for robots to walk on Mars; and yes, long and close contact with cockroaches helped him realize that one's life can be more meaningful working with people instead).
Dr. Chang received his Doctor of Dental Surgery degree from the University of California, San Francisco. He did his associateship in San Francisco for a few years and ultimately moved to Roseville with his wife Brooke, in 2001. They both enjoy the community immensely and look forward to raising their daughter and son, Avery and Jacob here.
With his philosophy of "every patient keeps his/her teeth until 99 years old," Dr. Chang strives constantly to improve his dental skills and techniques. You will often hear him say,"keeping your teeth for life is a much more difficult and daunting task than doing the latest trends and fads." How true.
When Dr. Chang's head isn't buried in his Roseville dental office working, he enjoys going to the auto track as both a spectator and participant.
Dr. Kevin Chang and his carefully selected team are very personable, and they treat every patient with the utmost care and respect.
Credentials
Member of American Dental Association (ADA)
Member of California Dental Association (CDA)
Member of Sacramento District Dental Society
Graduate of the ADA/Northwestern University Leadership Program
Graduate of the Whitecap Institute of Implantology
Karisa Yamamoto, DDS
Dr. Karisa Yamamoto is our Associate Dentist at the practice. She graduated from the University of California, Los Angeles (UCLA) with a Bachelor of Science in Physiological Science and earned her degree of Doctor of Dental Surgery from the University of California, San Francisco (UCSF). Dr. Yamamoto believes that to lead a balanced and fulfilling life, cultivating meaningful relationships and tending to our health and well-being are essential. She brings this energy to our practice to assure that patients feel listened to, safe, and well cared for.
As a research fellow at UCSF, Dr. Yamamoto received the Olav Alvares Award from the American Dental Education Association for her outstanding research and publication on high depressive symptom prevalence amongst dental students. As a junior dental student, she earned the Dr. William S. Kramer Award of Excellence from the Omicron Kappa Upsilon National Dental Honor Society for scholarship, character and promise to contribute significantly to the field of dentistry. With her passion for education, Dr. Yamamoto also teaches as a professor at California Northstate University, College of Dental Medicine, where she aims to create an enriching learning environment in which students feel limitless potential to tap into who they truly want to become. These values extend to our practice, where Dr. Yamamoto is devoted to patient education and ensures that all of her patients are well-informed and fully understand their oral health needs.
Out of the office, you can find Dr. Yamamoto playing in a bocce ball league with her team "Chewbocce," curating her living space as an interior design enthusiast, and spending time with her boyfriend, Michael and their dog, Theo. She also loves to write and holds a position on the Editorial Committee of The Nugget, the magazine of the Sacramento District Dental Society.