"Nothing short of excellence" is Dr Kevin Chang's approach to everything in life.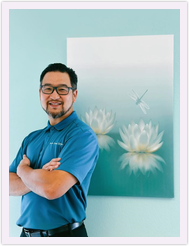 Kevin Chang, DDS
Dr. Chang attended the University of California, Berkeley, where he received two degrees; a B.A. in Biology, and a minor in Business Administration. While there, he was president of the Pre-Dental Society, captain of his intramural flag-football team, and co-published a paper on arthropod biomechanics (research for robots to walk on Mars; and yes, long and close contact with cockroaches helped him realize that one's life can be more meaningful working with people instead).
Dr. Chang received his Doctor of Dental Surgery degree from the University of California, San Francisco. He did his associateship in San Francisco for a few years and ultimately moved to Roseville with his wife Brooke, in 2001. They both enjoy the community immensely and look forward to raising their daughter and son, Avery and Jacob here.
With his philosophy of "every patient keeps his/her teeth until 99 years old," Dr. Chang strives constantly to improve his dental skills and techniques. You will often hear him say,"keeping your teeth for life is a much more difficult and daunting task than doing the latest trends and fads." How true.
When Dr. Chang's head isn't buried in his Roseville dental office working, he enjoys going to the auto track as both a spectator and participant.
Dr. Kevin Chang and his carefully selected team are very personable, and they treat every patient with the utmost care and respect.
Credentials
Member of American Dental Association (ADA)
Member of California Dental Association (CDA)
Member of Sacramento District Dental Society
Graduate of the ADA/Northwestern University Leadership Program
Graduate of the Whitecap Institute of Implantology